Disclaimer:  This is not a review 🙂  This is me at the end of the day, looking back at what I did and what I liked.  I used something today that I hadn't used in a while and thought about how useful it really is.  In fact, I hadn't used it in a while because I had let one of the classroom teachers I work with borrow it!  What is it????  Context Clues Stories Fun Deck from Super Duper.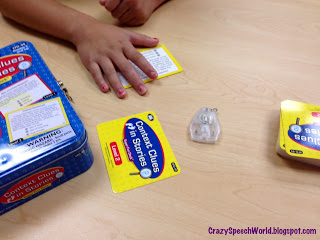 What is great about this is that it has two levels, one for fill-in-the-blank and one for identifying the meaning of the underlined word.  I use this with my intermediate level kids, as well as some of my lower level middle school students…it would definitely be appropriate for high schools kids too if they are on a similar level.
The other great thing is that is NON-FICTION!  Lots of history and science, which is SO good for practice with students!
I can use this on it's own with the decoder (that the kids think is so awesome) OR with an open ended game as the stimulus.  It is really one of those things I am just so glad I have!  Do you use this in your room?  What other Fun Decks can you just not live without???
This post contains Google Affiliate links.