I have always been fascinated [read: jealous] of bilingual therapists…or any person who is fortunate enough to be able to speak more than one language.  I love listening to other languages and have taken my fair share of courses.  But, I went to high school in a tiny county and my Spanish teacher was also a football coach from the country, who spoke the language in his southern accent.  Very nice man.  Should not have been teaching Spanish.  Needless to say, this comedy routine did not result in a whole lot of learning the language.  Fast forward to now.  I was so excited when Becky contacted me and asked about interest in making materials for bilingual SLPs.  YES, please!  So, we have something pretty special for you guys!

 You may (or may not!) remember my Snowmen Language download, which featured Winter Vocabulary Bingo…well, the lovely Becky Maya translated the entire activity, then I added it into the document and now we have a Spanish version!!!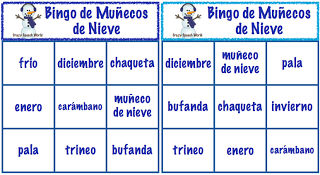 It is the exact same as the English version, with 4 different bingo cards containing winter vocabulary, as well as 2 blank cards.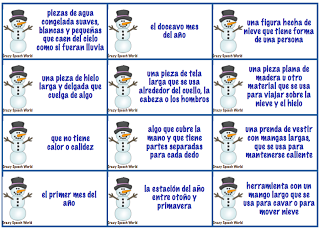 There are 12 calling cards with definitions!
You can download this freebie HERE!
I would really love to hear some feedback on this!  What do you think?  Is this something that you would like to see more of?