I have this one cutie pie 4 year old that comes to me on a walk-in basis for artic therapy.  He's a lively little guy who likes to keep me on my toes….I will think that I have come up with some great activity and he will look at me and say…."BORING".  I wish I was joking.  So, I know you have seen those artic towers, power towers, etc floating around on Pinterest.  I had bought the cups a while back, but I never wrote any words on them….  I have commitment issues.  Anyways, today I whipped out those cups and told him we were gonna see how tall he could build a tower.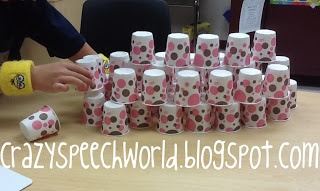 I said a word, he said the word, and I gave him a cup.  Simple as that.
 This lasted for a whole 20 minutes and we got 100 words done!  ONE HUNDRED!  With a FOUR year old!  WOOOHOOOO!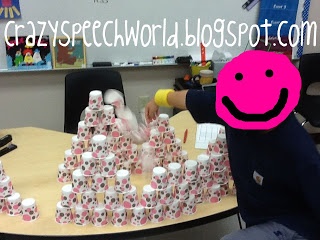 Then, of course, I let him punch it down…cause what fun is a still-standing tower?  NONE 🙂 
I guess my point is, sometimes it doesn't take a whole lot of find something to hook them…you just have to think outside the box.
Have you done something that you thought was SO silly, but grabbed your students' attention like no other?  Have you used these cup towers?