I am always inspired by other people's projects…this may be why I love Pinterest so much!  This time though, I was really digging Jenna Rayburn's Miss Piggy over at Speech Room News.  I just knew that pig was a huge hit and I wanted one too!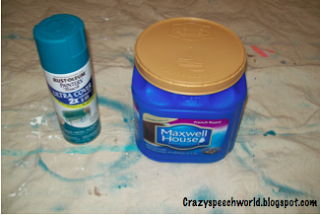 So I started looking around my house for some empty containers and I came up with a coffee cannister that I had been saving for something…bingo!  I had some left over spray paint from the magnet trays and got busy!
Once the container was sprayed, I let it dry for 24 hours.  I cut a round hole in the top with an exacto knife.  Then the fun started!  I got out my paint and craft supplies [read:  googly eyes and feathers].  I wasn't sure yet what exactly this animal was going to be….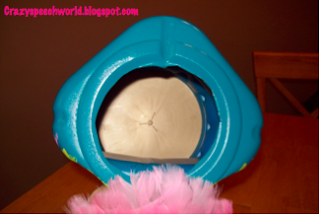 But here she is!  My son thinks it looks like she belongs in Vegas!  I think she is cute and I might giggle every time I look at it.  I can't wait to use her this year.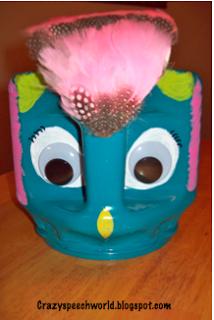 I haven't named her…probably will leave that up to my students!  With the hole in the top, you can use any card game and throw them in there instead of putting in a pile.  I'm thinking this will go perfect with the WHOO game  I just posted!  I was also thinking of having my student's tweet [think Twitter] as an exit ticket once a week about what they learned, questions they still have, or something they want me to know and they can put them in her as they leave.  I can post on the tweets wall in my room and it can be a springboard for more discussion…aka speech practice!  
What do you think?!  Can you think of another way to use this idea?