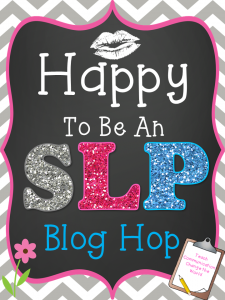 It's MAY!  YAY!  May is Better Hearing and Speech Month (BHSM) and it is the best month to spread the speech love!  Check out me and some of my buddies in our  musical debut….
Being an SLP is a huge part of who I am and I, of course, think it's the best job ever.  I think most people think I work on /s/ and /r/ all day long and their eyes may glaze over when I start telling them about language disorders…BUT, one of the topics that I feel I am able to always bring awareness to ALL of my friends and family is hearing loss, probably because this can affect anyone.  How do I help?  Sharing the signs of hearing loss and the tips to make communication easier!
Signs of Hearing Loss 
Inattentiveness
Buzzing or ringing in the ears
Failure to respond to spoken language
Ear discomfort
Muffled hearing
Frustration
Social Isolation
Communication avoidance
Depression
Tips to Improve Communication
Avoid background noise like washing machines, televisions, and music
Communicate in well lit rooms
Stand or sit 3-6 feet from the speaker
If you are having trouble understanding someone due to accent, ask them to speak slower, not louder
Let others know you have hearing loss
Instead of saying 'huh' or 'what', repeat the message back to the speaker to make sure you have heard correctly
Visit your audiologist if you notice any changes in your communication skills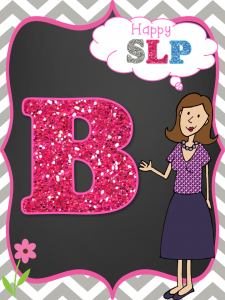 Here is your secret code letter!  You will enter this in the Rafflecopter on your last stop at The Dabbling Speechie, where you will also get a fun surprise!  What are the prizes?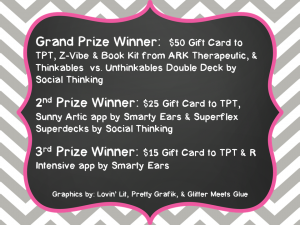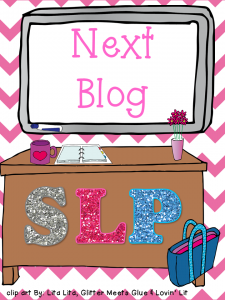 Take your B and head over to Speech Room News to see what Jenna has for you 🙂  Happy BHSM!