Well.  It's raining.  Sideways and hard.  Tropical Storm Debby is here and really putting the brakes on any fun I had planned for the past couple of days.  AGH!  Nothing like cabin fever…
Since I feel like a fish in a bowl, I thought I would share some more of the beach themed ideas for therapy I have been working on and some that I did with my students before summer vacation started.  The first is an idea I got from another great speech blog, Speech Therapy Ideas.  Becky posted a fun idea for fish bowls to work on all kinds of targets.  Here is how I did it in my room…I didn't happen to have any paper plates on hand, but I always have construction paper!  So I ended up cutting a basic fish bowl shape for each student.  I gave them fish to write their speech words on, then they colored and glued them on their bowl.  This is my example, but you can certainly use more fish, depending on time.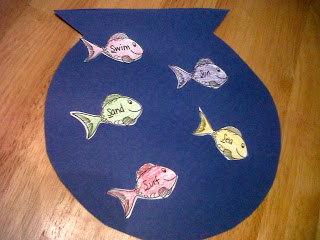 I like doing activities like this for a couple of reasons.  One, it gives the other students in my group something to do while I work with each kiddo individually on their goal.  Two, it ends up being a perfect activity to practice their speech words at home!  You can grab the blank fish pages HERE.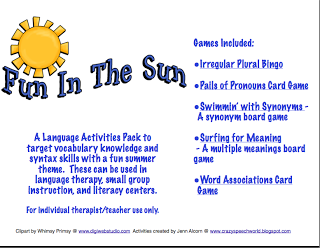 I also created a language activity pack with a fun beach theme.  The beach is my absolute favorite place to spend time, so this may be one of my favorite materials!  I included 5 different games to target various syntax and semantic skills.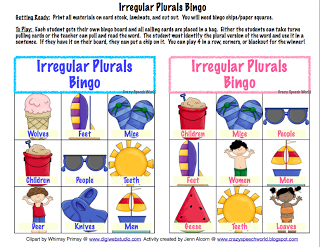 The first is an irregular plural nouns bingo game.  It includes 4 bingo cards and 14 calling cards for common irregular plural nouns.  This would be super easy for a reinforcer after a lesson for this skill.  All you need are bingo chips/markers and a bag to put the calling cards in!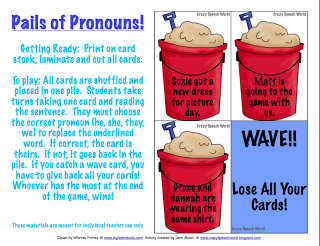 Next is a card game to target he, she, we, and they pronouns.  Their are 52 cards in all, including penalty cards.  The cards are placed in one pile and each student takes turns drawing a card, reading the sentence, and choosing the correct pronoun to replace the underlined word.  If the student responds correctly, they keep their card.  Whoever has the most cards at the end wins!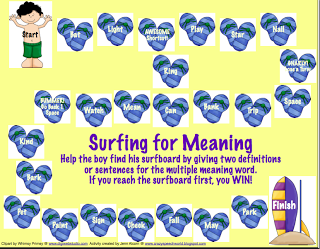 Also included are two board games, the first is for multiple meaning words. All you need are dice and game pieces to play.  As the student moves along the board they must provide at least two definitions or sentences for each multiple meaning word.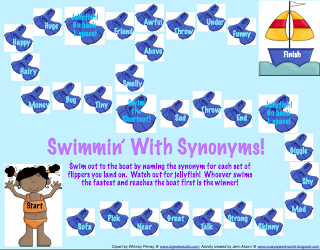 The second game board is for targeting synonyms.  The student must identify the synonym for the word they land on to keep their position.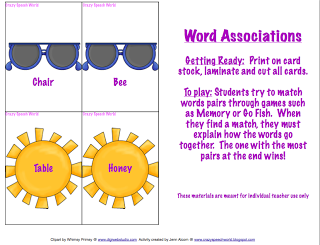 Last is a card game to target word associations.  There are 26 pairs of words that are related and students must identify the matches using games like memory or go fish.  Once they find a match, they explain how the two words go together to keep the pair.  Whoever has the most pairs at the end is the winner!
 The whole unit is also available in my TPT Store HERE.   I am offering the synonyms game as a freebie, all you have to do is hit Download Preview on the TPT page!   Thanks for your support!