I don't know about you, but when I first started working in the schools, I was completely overwhelmed with all the things I didn't know about education. I had to teach myself about curriculum and standards and things that I was never exposed to in my speech/language courses in college. In my district we use the Houghton Mifflin reading curriculum and I ended up making some reference sheets for myself to keep track of what my students were working on in the classroom. I keep these at the front of my data binder so that I always know what I can supplement in the therapy room. Some of my teacher friends have also found these useful, which was a double bonus! It is not all inclusive for some grade levels, as I left out fluency, high frequency words, and spelling objectives for K, 1, 2, and 5.
This is basically what each one looks like….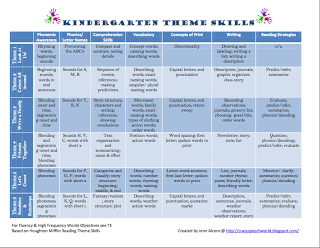 I hope that there are some other therapists & teachers who may be able to use these! I created them for K through 5 and you can download them here:
Kindergarten
First
Second
Third
Fourth
Fifth
Do you use anything to help keep track of curriculum in the therapy room?