Social media has positively impacted my life this week and I am so grateful.  I have learned so much from SLPs all over the place and it is truly a wonderful experience.  First of all, if you aren't on Twitter, then you should be.  I just connected this week and have found a whole new world of amazing people with whom I have shared meaningful conversations with. We gather around the hashtag of #SLPeeps…which I happen to think is genius…and we chat.  I have thrown a couple of questions out and have gotten answers almost immediately.  Everyone is so kind and generous with their thoughts and ideas.  It is a great place to learn.  Fellow blogger & tweeter, @SLPTanya has done some excellent posts on her blog about Twitter and other forms of social media and how they can impact SLPs…check it out HERE.  I highly recommend it.  My twitter button is on the right sidebar, so make sure to follow me!  And as I was told on my first day of tweeting…jump in with both feet!
In other news, I have been working on an articulation activity!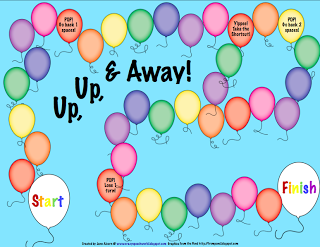 I created this colorful, open-ended game board with balloons, that could be used for anything!  BUT, I made artic cards to go with it!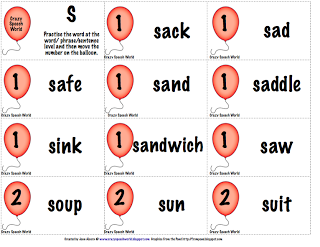 Each card has a ballon on it, with a number.  The number is the amount your students will move on the board after they say their word…or have them produce the word in their own phrase/sentence if that is where they are working.  I did 7 sets of cards to work on S, R, L, F, TH, K & G, and SH & CH.  There are 35 word cards for each set and include the sound in the initial, medial, and final positions.  Each sound has a different color balloon to help keep things organized.  You can mix and match cards depending on what your kids need.  If you want to change it up, you can nix the game board and just use the cards as a points game.  Students take turns drawing cards and saying their target.  If they do so correctly, they earn the amount of points on the card.  

You can download it in my TPT Store!  Let me know what you think!