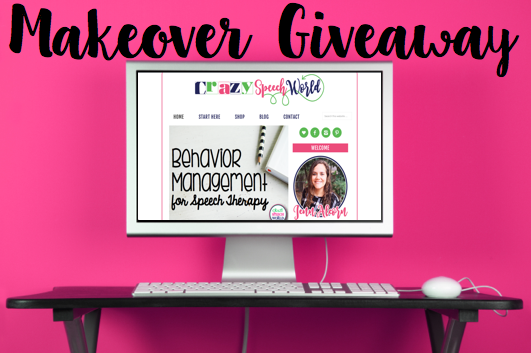 Crazy Speech World got a makeover!  I thought that she was due, it was her FOURTH birthday this summer….can you believe that?  I can't!  Shout out to Becca over at Jumping Jax Designs who made it so pretty <3
SO, to celebrate, I have presents…for YOU!  I hope after you check those out, you will take a cruise around the new layout and make yourself at home!
First up, I created a new theme therapy calendar for this year and am attaching it to a newsletter…this way I can share all of the fun thematic things we are doing in my speech room each month!  Sign up below and then you will receive an email with the link to download the calendar!
Since it's year 4, let's go with 4 prizes!  Favorite online stores to buy things for therapy?  Easy.  Amazon, iTunes, Etsy, and TPT.  I'm giving you the goods, folks!  Enter to win below and GOOD LUCK!