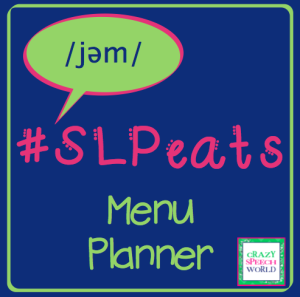 So let's take a break from the therapy room and talk about what's happening in the kitchen of my crazy speech world.  I've been working super hard on this whole clean eating thing, which is hard, cause I heart chips.  And chocolate.  And macaroni and cheese.  But I know it's bad.  And working out is not my favorite activity, so having to work out more cause I ate that bad stuff is not what I want to be doing.  So clean eating is better for me, better for you, and even if my kid is completely unhappy about the lack of junk food around, this is happening.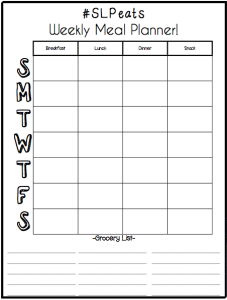 This means I need a plan, so I made this meal planner to help keep me on track!  And I thought some of my friends might want it too, so you can grab it HERE!  Yay!  Meal Planners Unite!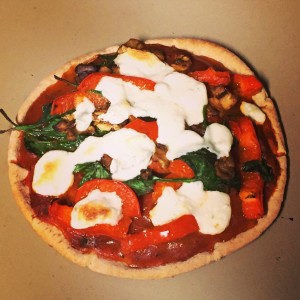 I'm totally digging this pita pizza recipe, btw.  Cause I love pizza, but that stuff is grease city and this is not.  Just put some marinara (I make homemade!) on top of a whole wheat pita, throw on some sautéed veggies, and top with fresh mozzarella!  Bake at 400 for about 10 minutes…it is DEEEEEElicious!  I always take pics of food and tag them #SLPeats on Instagram, I'd love to see your foodie pics too 🙂
Cheers to a healthy week!
xoxo,