Wait a second.  New Jenn?  Nah.  But everything else?  YEAH BABY!  Check me out!  My blog address has changed…  I have moved into my very own website.  I own it.  It's mine all mine!  Crazy Speech World is moving on up!  This project as been in the works for what seems like an incredibly long time…I'll spare you all the mind numbing details.  You're welcome.  Shout out to Sara at Moonsteam Design for getting me all set up here!  She rocks.  Totes McGoats.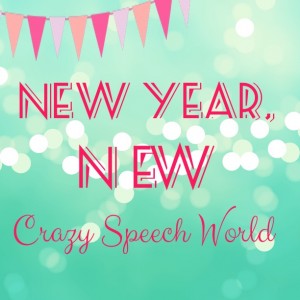 So where should you start?   The  Start Here page on the main menu will tell you where everything is.  I have tried to do a lot of organizing, hoping to make CSW more navigable for my readers.  I hope you like it and find it helpful!  All of the blog posts from my Blogspot have been moved here, so some things are quite the same.  But you can't even go to my Blogger address anymore.  Go ahead and try.  You can't.  This is what I like to call #winning.
Part of my plan for my pretty new site is for me to make it more about my WHOLE crazy speech world…if I and the time and energy, I'd have about 3 blogs.  One for speech, one for food (homegirl likes to eat), and one for everything else that crosses my mind.  But then I thought…why?  Why not put it all right here?  My Facebook friends said they would love if I blogged about food.  SLPs have to eat, right?  I do a lot of crafty projects around my house, I read a lot of books, I think a lot of things….and I want to share them!  I hope to make these kinds of things fit right in, all the while staying true to the speech  aspect that got me blogging in the first place.   These will all be filed under SLP Gone Wild…Food, Fun, Family.  Either way, I count on you to let me know what you like and what you don't…using nice words, of course.
I have to tell you…I get somewhat teary eyed thinking about how I have gotten to this point.  I feel in awe of what CSW has become and infinitely grateful to all of you who have embraced me… and keep coming back for more.  Moving to this site is another huge stepping stone.  The future sparkles…I am so excited to see what else is to come.  God is so very good.
So, who feels like celebrating?  ME!  How about I do a giveaway and a SaLe?  Sounds like a plan to me.  My store will be 20% for the next two days!  And…one lucky reader will win TEN free downloads from my store.  TEN.  Any TEN you want.  Woot!  Enter via the Rafflecopter below and Good Luck!!