This post contains Amazon Affiliate links.

So, my friend Kristin at Simply Speech is hosting a Fave Fashion Friday linky which I am excited about!  But especially today…it's a subject I am well versed in…ShOeS.  My shoes are like my family members.  Yes, it's an addiction and I have no problem admitting it.  I love shoes…A LOT.  And the funny thing is, I always have!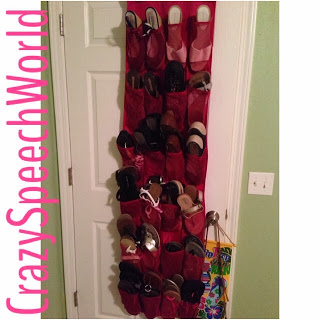 I have shoes in several locations.  First, I have an over the door shoe organizer in my room.  This is a space saver since my closet space is limited.  I could go more into that, but that's for a different blog, at a different time, that I wish I had time for.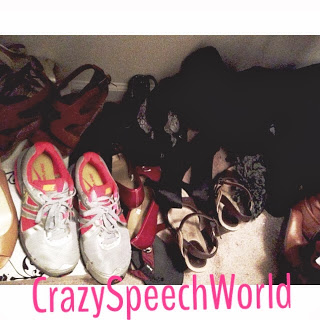 Aaaaaand I have this crazy pile in my closet.  I can see now, since I am showcasing my closet floor to the world, that I need to organize this mess.  I also have a box of shoes that I keep in the garage for more fancy shoes and boots that only get worn a few times out of the year.  Living in FL puts me at a distinct boot disadvantage.  But, I do have a fantastic collection of flip flops.  And I'll take a flip flop over a boot any day of the year.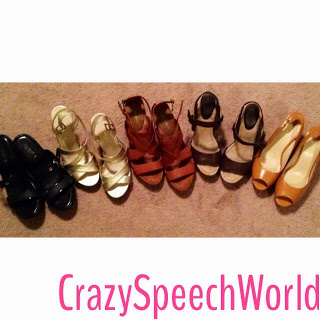 Favorite kind of shoe?   Oh, that's easy.  Wedges.  I find them so comfy, I wear them to work.  And we all know that school SLPs walk 23 miles each day.  Slight exaggeration?  Perhaps.  But it is somewhere near that number, I'm sure.  Most of my shoes are from Nine West.  I am one of those lucky girls who lives within 15 miles of TWO outlet malls.  TWO.  One has a Nine West store, which has BOGO deals like all the time.  I can't go there without buying two things, cause otherwise I'd just be breaking some sort of rule, right?  Right.    

What kind of shoes are on your SLP feet?