Holy.  Moly.  Last night, I was working on the computer and checked FB, as I usually do when I am avoiding a task.  Do you do that?  Between Pinterest and FB, it's a wonder I get anything done ever!  Anyways, I happen to notice a certain number had hit a fairly significant count…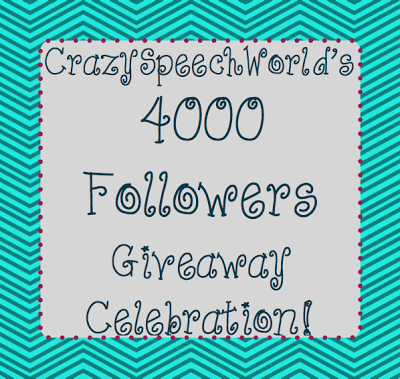 FOUR THOUSAND people 'like' my blog's Facebook Page.  Whaaaaaat?!?!  How crazy huge is that?  Agh!  I just can't even believe it still.
The fact that there are 4,000 people who have 'liked' my Facebook page totally rocks my world!  Really, I want to tell anyone reading this that I am beyond grateful to you.  This little blog is such a blessing to me and my life, I can't even begin to tell you.  I am so thankful to each of you, I wish I could give you a high five and a great big hug.
So now, it's my turn to give back some love!  I've got two things….
First, my entire TPT store is on sale Monday & Tuesday (9/30-10/1) for 15% off!  

And next, a giveaway!  You can enter to win a TPT gift card and free downloads!  Enter via the Rafflecopter below and GOOD LUCK 🙂