I love Jenna's Love It & List It linky and this month's topic is…organization!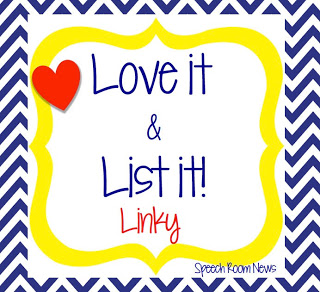 If you want to link up or see other organization ideas, head over to Speech Room News!
Now…organization is not my best subject.  Organized mess?  Yes, I can do that.  I attempt to keep things orderly in my classroom, so here is a peek at some things I do to keep my speech space organized:

First, is my new toolbox.  You can read my post about it HERE.  I have been using it for two weeks now and really love it.  I totally recommend this to anyone who needs to store office supplies!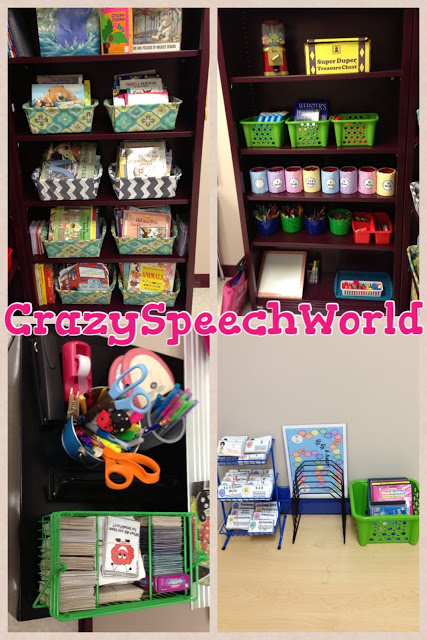 Next, is baskets and bins.  I try to keep all of my supples in some sort of container.  I have gotten tons of baskets from the Dollar Store.  The ones that my books are in are from there, I just covered them in fabric to make them pretty!  I have also upcycled containers from home (ex. the coffee cans for my artic buckets).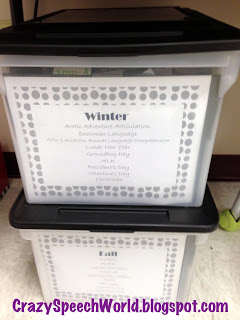 I organize all of my TPT materials in clear bins by season or topic.  You can check out more in my post HERE.  I got these bins at Walmart.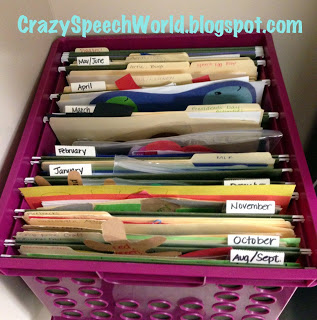 I use crates to store my craftivities in hanging files by month.  I also keep student folders and my data binders in crates by grade level.  

That's all I can show you.  My desk is a mess, per usual 🙂
Do you use anything similar?  Or do you have even better ideas?