Laura over at All Y'all Need has a great SLP linky each month and I am joining for the first time!  Yay!  This month is Back To School!  Check it out…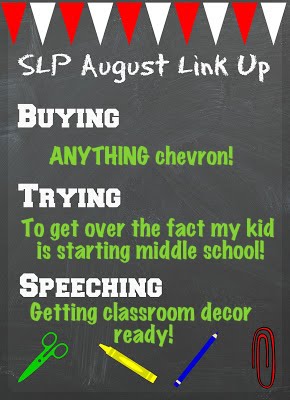 Buying:  I am completely obsessed with chevron.  I probably need an intervention.  I have been buying lots of things with this pattern, including but not limited to:  fabric, paper, borders, jewelry, ribbon, and office supplies.

Trying:  OH EM GEE, my baby is staring middle school!  AGH!  I'm freaking out.  I remember middle school….I didn't give my parents the most pleasant experience.  I'm hoping my guy takes it easier on me!  🙂

Speeching:  I have putting together lots of things for decorating my classroom!  I have painted two canvases, gotten a toolbox for organizing supplies (with chevron labels :)), and now I am working on a decor packet that I will share with you guys!  Think it has chevron?!?!  Post coming soon 🙂

Whether you are a blogger and want to link up or you just wanna see what all the speechies are up to, head over to All Y'all Need and read up!

What you are buying, trying, & speeching???