I am SO excited that we are lucky to have such creative SLP bloggers!  Nicole over at Speech Peeps came up with a brilliant linky party to celebrate something we love…feedback!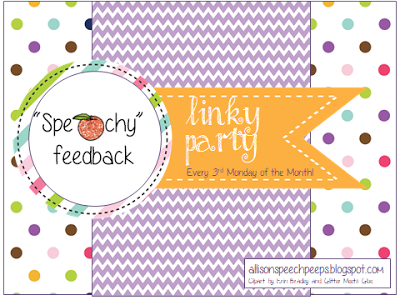 Wanna join?  Head over to Nicole's post and read how by clicking the image above!
And now, for my favorite feedback this week….

This made my day because I had worked SO hard to get these done and to hear that the layout was good and someone recognized and appreciated the work I put into was really wonderful.  I love it when someone points out something specific that they liked in a product!  You can check out this product HERE.
Buckeye83, email me to receive one free product from my store!
Thank you to everyone who purchases from my store and an extra squeeze for those who leave feedback!  Make sure you check back in a few weeks for another feedback winner!