If you are anything like me, you love lists…making them, reading them, crossing items off of them, and then writing new ones!  It is an endless cycle in my life!  So, when Jenna said List Linky Party, I was all ears…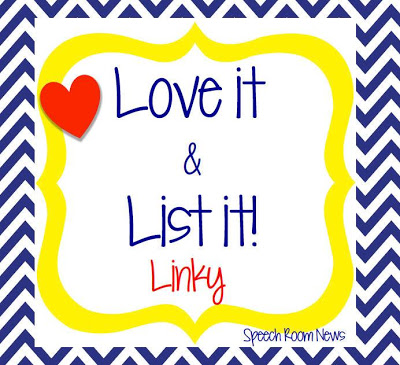 This week is a list of games…the ones I can't live without!  You can click on the image above and it will take you to the link up to see all of the other games SLPs love.  This post contains Amazon Affiliate links for your convenience.  Ready, set, list!
1.  Apples to Apples.  This is so popular in my room, that I feel like I can tell you every noun and adjective in this game!  My kids love it, especially the intermediate and middle school crowd, and it is great for all kinds of goals.  I have already posted on it before, you can read how I use it HERE.
2.  Jenga!  I have THREE sets of Jenga in my room!  I have sets for synonyms, antonyms, and a plain version.  The synonym and antonym version have words written on each block, so as my students pull one, they have to identify the synonym or antonym for that word.  The blank one is perfect for any other goal in the world.  Another super popular choice among the little people AND older crowd 🙂
3.  Artic Chipper Chat is my number one go to for specific artic games!  There is something the kids just love about those yellow magic wands!  Best part….Super Duper makes a ton of variety of Chipper Chat games, so you can probably find one for anything you need, including open ended games.  I have also done a post about these before, which you can read HERE.
4.  Headbandz!  This gets even my most shy kiddos talking!  This game is awesome for working on describing skills, questioning, and higher order thinking…and who doesn't like sitting around with a hotdog on their forehead?  
5.  Last, but definitely not least…BLURT!  This game is so much fun and certainly a staple in my room.  Super fun and flexible use…a must have!  I have previously posted on this one too, you can read about it HERE.

That's my top 5…are any of these are your top 5???