I am excited to bring you guys a GREAT activity from one of my bloggy buddies…Amy over at Major Speech Pathology Fun by a Minor Girl!  We are tangling our blogs today just for you guys, so I hope once you are done here, you will hop on over to hers to check out her review of one of my activities 🙂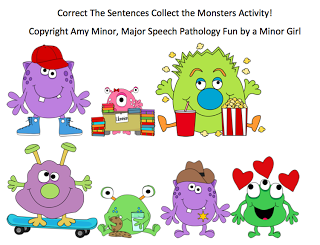 The download I am reviewing for you guys is called Correct That Sentence Monsters!  Included in the packet are game instructions, 81 playing cards, and a player board.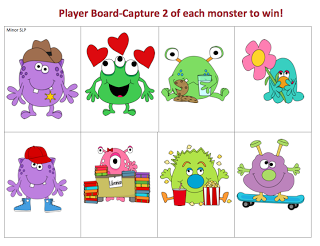 Each student gets their own board…the object of the game is to collect one of each of the monsters on the board first.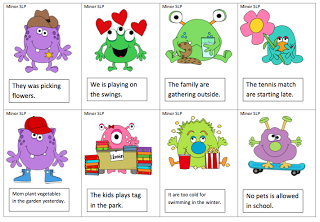 The playing cards print 8 to a page, which I love because it doesn't waste a bunch of paper.  Each card has a sentence on it that needs to be corrected, with varying grammar concepts targeted:
was/were
is/are/am
pronouns
irregular verb
verb tenses
reflexive pronouns
Also included are 8 'skip' cards, which you can use or not!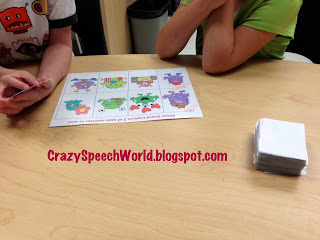 My kids L-O-V-E-D it.  I had them share game boards, working together to correct the sentences…one was responsible for the monsters on the top row, and the other did the bottom monsters.  They loved the graphics the most, but I felt like it was a great learning activity.  We talked about how sometimes it helps to say sentences out loud cause they just don't sound quite right…and we used our monster voices 🙂  I also liked how many cards it came with…TONS!
I would definitely recommend this activity to other speechies who have students working on syntax goals.  You can find it in Amy's TPT store!
If you don't already follow Amy, you should!  You can head over there now by click HERE and read her review of some of my pigs!