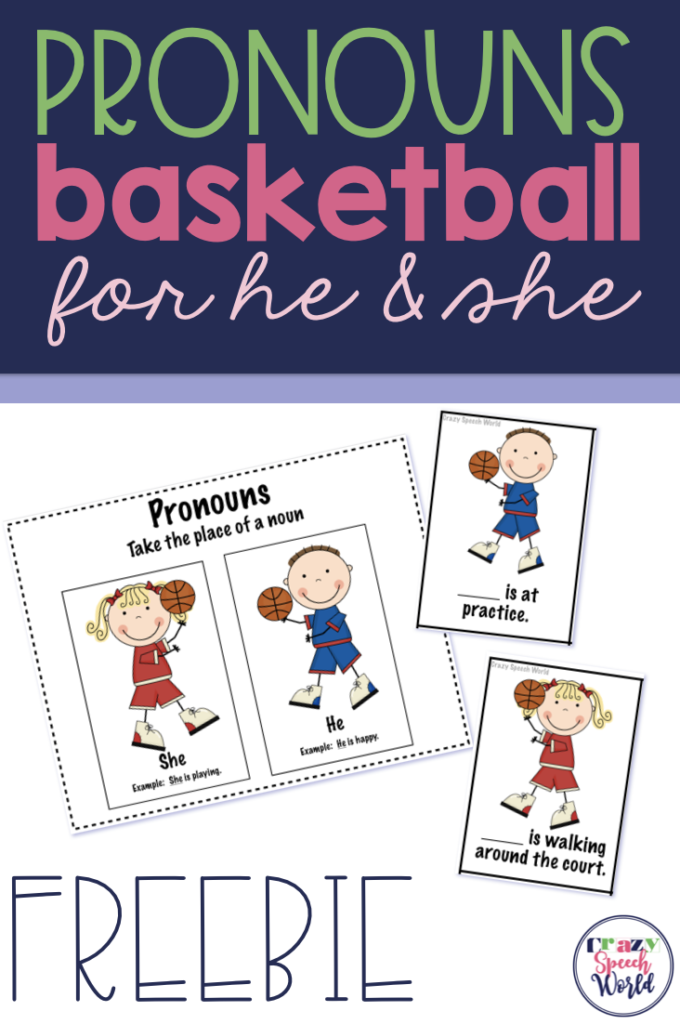 So, that time of year when everyone starts talking about brackets and madness is almost upon us again…as in March Madness and tons of basketball!  Basketball certainly isn't as popular in my world as football, but I thought I would give some materials a whirl.  I found these basketball kiddos from Scrappin Doodles and decided to hook you guys up with a freebie!
Ballin' With Pronouns!  It was really easy to target third person singular subjective pronouns with these graphics…AKA…'he' and 'she'! I included this cue card, as well as an "I will" learning goal and reference to the Common Core Standard addressed.  Personal pronouns are explicitly targeted in 1st grade standards (CCSS.ELA-Literacy.L.1.1d Use personal, possessive, and indefinite pronouns), but you can also target pronouns under  CCSS.ELA-Literacy.L.1.1 Demonstrate command of the conventions of standard English grammar and usage when writing or speaking if you are working with a student at another grade level who still struggles with this concept.
I included 16 'he' target cards, which are cloze sentences and the student will fill in the blank.  Obviously, if your students can't read (which will be the majority, I'm sure!), the therapist will read the sentence to the student.  Since the graphic is a boy, it is a visual cue to use the male pronoun 'he'.
There are also 16 cards to target 'she', in the same format as above.  You can use one set, or both, depending on your students' needs.
I also included a simple board game that you can use with the cards (or without!).
I hope you like it and you find it useful!  You can download this freebie in my TPT Store…as always, please leave me a comment or feedback to let me know what you think!