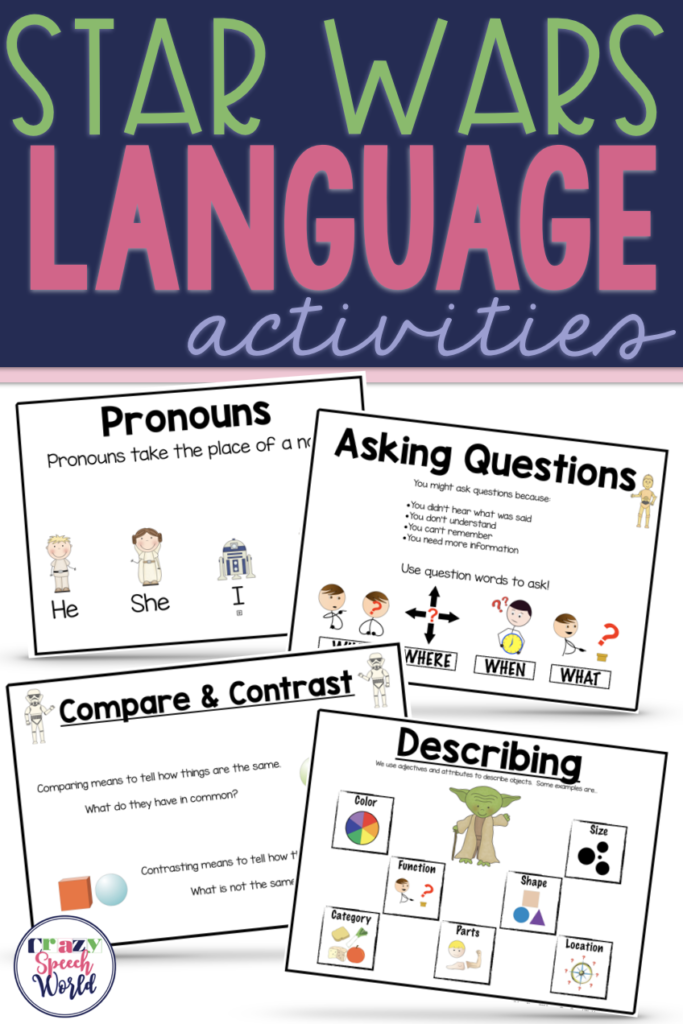 I got this clipart in Scrappin' Doodles' Cyber Monday Sale back in November and hadn't decided what to do with it until this month!  I really just needed some specific language activities for a few of my kiddos that could be used regardless of my theme…something flexible.  This fits the bill with super cute, high interest graphics…and who doesn't love the little green guy?!
I included 4 different expressive language activities to target pronouns, describing, asking questions, and compare/contrast.
Up first…Power of the Pronoun!  The first thing I included for each activity is an instructions page that includes the Common Core Standards addressed within the activity, as well as an 'I will' learning goal.  I have decided that this is something I would like to do for each of my activities from now on.  I created a set of 'I will' statements for all the CCS I use, but it is kind of a pain to sort through them and figure out what I need for each group.  This way, with it included in the activity, I can just post it straight from the material bag!  Problem solved.  BTW, I have to post these for every group…do you have to do that????  Next is a cue card with a simple explanation and graphic representation for each of the target pronouns, 'he', 'she', 'it', and 'they'.  You will have 20 pronoun cards (above) and 20 action word cards (below).  To play, you will put separate the cards in two piles.  Students will take turns drawing one from each pile to make a sentence (ex. He is whistling).  You can also target syntax goals with this activity for specific sentence types, noun-verb agreement, etc.
Next is Read My Mind…an activity to target describing!  So many kids need to work on this!  This is the cue card that you can use to introduce the activity and students can use as a reference during the session.  There are 24 cards with thought bubbles of objects.  Students must describe the objects to each other or to the SLP until that item is guessed.  I also included 8 blank cards for students to come up with their own objects to describe!
Then we have Clarifying Robots, an activity that targets asking questions to clarify missing information.  There are 24 statement cards that students or SLPs will read and the student will ask a question to request more information.  This is a skill that SO many of my students are working on, so I am super excited for it!
The last activity is Compare and Contrast Troopers to target identifying similarities and differences.  There are 24 cards that have two object pictures for students to compare and contrast.  I also included 8 penalty cards which you can use to make a game.
I hope you like it!  Please let me know what you think…I am working on a receptive pack too!  Any Star Wars obsessions in your speech room?
You can find this download in my TPT Store.