Alright…so I will tell you right up front…I know zero about hockey.  BUT, I remember someone mentioning that they would love to see hockey themed materials a while back, and I had been saving that idea for the winter months.  I do know that there is a lockout (this seems to be common occurrence in professional sports these days), so I thought I would give you some hockey now since there isn't any on TV!  I am much more of a football girl, but I gave it my best shot 🙂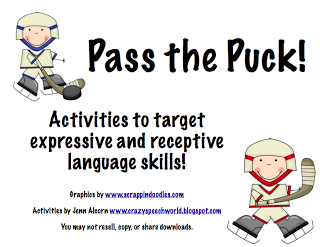 I included 4 different hockey themed activities to target language skills…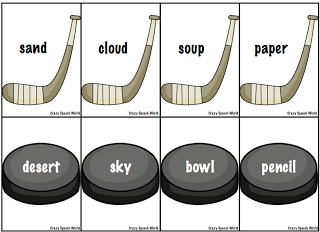 First is word associations.  Students will match hockey sticks to pucks with the correct association.  You could also use these to target similarities/differences.  There are 36 cards in all.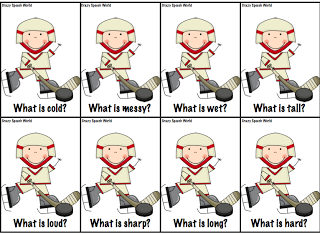 Next is a game to target describing…backwards.  On each card is the question "What is ___?" with an descriptor.  Students will name an object that can be described by the the adjective.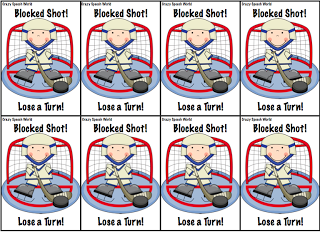 There are also penalty cards in this game, and if you draw one, you lose a turn!  Whoever has the most cards is the winner!  There are 43 stimulus cards and 9 penalty cards.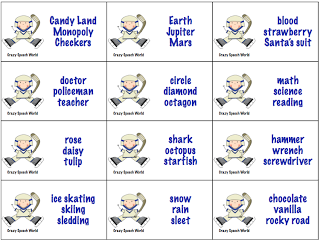 Next is category cards!  There are three items listed on each card and students will name the category that identifies the group.  There are 28 cards.

 Last is an open ended game board that you can use with any of the included cards or with your own targets!
I hope that you find this activity fun and great for learning!  You can find it in my TPT Store.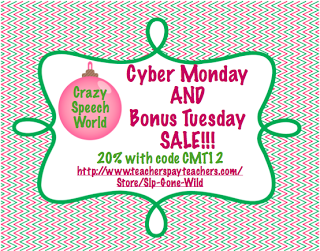 Today starts the awesome Cyber Monday sale!  Go check out the rest of my store and get 20% off!