A little while back I was having a conversation with a reader, Meagan, and she told with me that she often does cooking lessons using visuals…I knew this would be a hit with you guys, so I asked her if she would mind sharing!  Thanks, Meagan! 

One of my favorite therapy activities is cooking.  As an elementary and high school SLP, I enjoy creating activities that I can use with students at both school sites.  I am all about killing two birds with one stone, especially since I am 4 or so months into my CFY and still just trying to figure out this profession in general.  When Jenn offered me the chance to write a guest post, I was thrilled at the opportunity!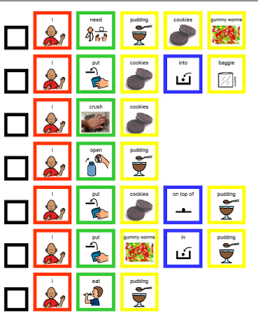 Worms in Dirt

I have been able to run cooking groups with both my elementary and high school mod-severe classes with great success using picture recipe checklists.  I create the visual recipes using Boardmaker.  The recipe is broken down into steps, which are made into sentences using picture icons.  Each picture icon has a colored border  indicate different parts of speech which helps promote sentence structure awareness and increase utterance length.  Red borders represent subject, green borders represent verb, yellow borders represent object, and blue borders represent modifier and prepositions.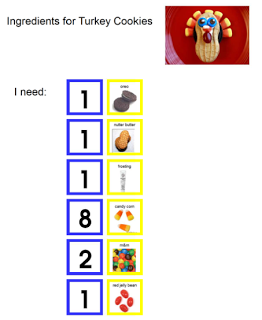 Since using these recipe checklists/schedules, my students have been much more regulated and engaged throughout the activities.  The students are excited about cooking time, however eating the treats is another story for some reason!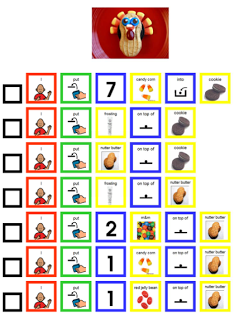 Cooking activities have become a weekly/bi-weekly activity in my therapy sessions.  If you happen to run co-therapy groups with the OT, cooking is a perfect activity to target a variety of goals for both domains.   I hope you are able to use this and your students enjoy the activity (and recipe) as much as mine did.  Thanks!

You can download the Worms in Dirt and Turkey Cookie recipes in Meagan's TPT Store!