In case you missed my FB post, I got an iPad!  I am so excited to start using this as a therapy tool, as I have been drooling over my colleagues with them for months.  And, thanks to Kristen over at [simply speech] I got a great deal on a snazzy red case!  Woohoo!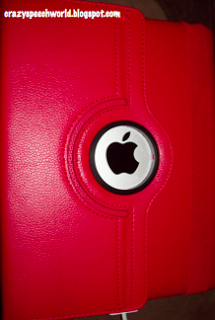 Since I am now equipped with this fancy (and oh so pretty!) piece of technology, I have charged myself with stocking it with apps to not only therapy more fun, but things that can make me more productive!  Unfortunately, this plan has been foiled by many apps that do nothing but kill time (hello, SongPop).  But today I found something that I think will be super helpful and has pretty good timing, since it has been a blog topic of mine more than once…Common Core!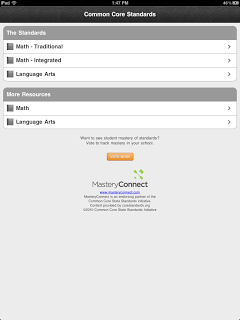 This app is by Mastery Connect and I really like it.  It has all the standards for Math & Language Arts, just click what you want!  I started off exploring Language Arts…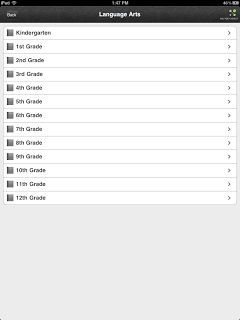 Up pops the grade level menu!  All together in one place, which is so convenient for those of us that work with many grade levels.  Once I clicked on Kindergarten, it brought me to all the strands…Reading Literature, Reading: Informational Text, Reading:  Foundational Skills, Writing, Speaking &  Listening, and Language… and the standards within each one.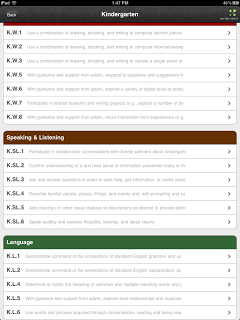 Click on a standard and it gives you more detailed information, including the Corresponding College and Career Readiness Anchor Standard and range content of the strand.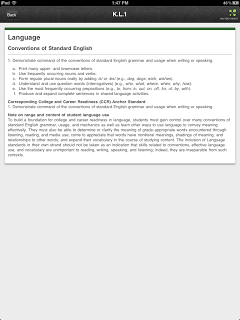 The only thing that I have found about the app that is a bummer is that you cannot select and copy text.  It would be nice if you could copy it into another document.  But all in all, I think this is a great resource! And it's free!!  You can check it out in the App Store HERE.  Let me know what you think if you download it too 🙂