I'm currently enjoying spring break.  Not to rub it in the non spring breaking peeps faces…but it's awesome.  I actually uploaded this new product to my store last week, but I am just now getting a chance to blog about it…you know, with all my extra time 🙂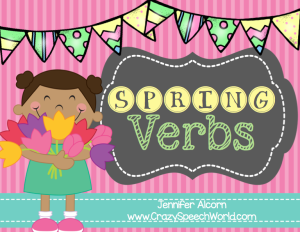 Spring Verbs is a packet that I created to meet the needs of my K-2 crowd.  I needed something flexible that I could target lots of different goals with and I am loving how it turned out!  Here's a peek…
This packet targets 16 different verbs and includes the following:
16  picture + word cards
16 picture only cards
16 word only cards
Past, present, future sorting page
Past, present, present progressive, and future sentence strips & pictures
WH words cue card
Game board
Pre/post data collection page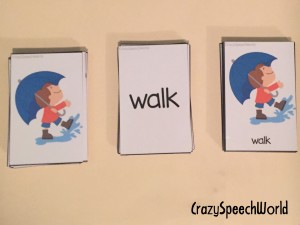 There are three sets of cards of varying levels, picture + word, picture only, and word only.  You can use these to drill, with the included game board, or for matching games like memory or Go Fish.  With my readers, I plan on using the word set paired with the picture set to have them work on recognizing and decoding the verb to match the picture.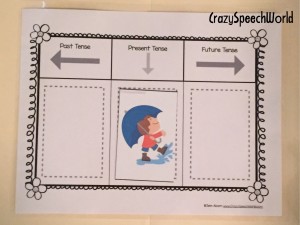 There is the past, present, future tense sorting page that you can pair with the cards to work on changing the verb to the correct tense.  Once you laminate them, you can also write on the picture cards for each tense, then just erase to work on the next one!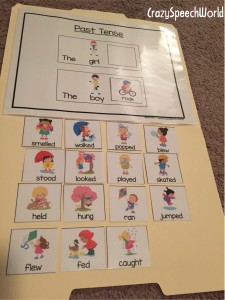 For the sentence strips, I plan on creating a file folder activity like what's pictured, with a folder for each tense.  You can use Velcro to attach the pictures and students can make various sentences to target their goals.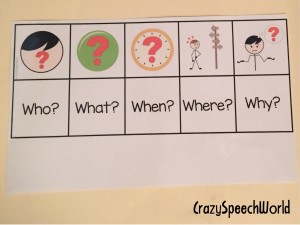 This WH words cue card is for the students who need to work on expanding their sentences.  You can also write on this if you laminate it!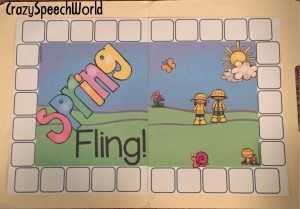 The game board is bright and fun and perfect for spring!  It's two pages, so you can use it in a file folder as well, or just laminate the pages together.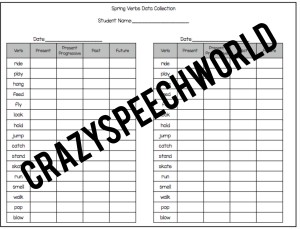 Last, I included a data collection sheet that you will help you monitor your students' progress!
You can grab it for yourself in my TPT Store!  I hope that you find this download as versatile and useful as I do!