I know I am not the only ready for spring….and some of my fellow bloggers and I are SO ready for it that we decided to bring you an awesome new giveaway to breathe some SPRING into your speech room!  Ready to blast off?!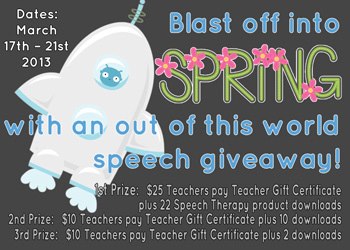 You can enter via the Rafflecopter link below…and GOOD LUCK!
a Rafflecopter giveaway
Prizes:
The 1st Prize Winner will receive a $25 Teachers pay Teacher Gift Certificate plus all of the following Speech Therapy product downloads.
The 2nd Prize Winner will receive a $10 Teachers pay Teacher Gift Certificate plus 10 downloads.
The 3rd Prize Winner will receive a $10 Teachers pay Teacher Gift Certificate plus 2 downloads.
Click the links below to view the selection of sponsored products for yourself!
Crazy Speech World: Social Candy Monsters
WordNerdTeachSpeech: Butterfly Categories
Kids Games for Speech Therapy: Easter Language Activity Pack
Let's Talk Speech Therapy: Breaking it Down- Phoneme Segmentation/Blending & Multisyllabic Words
Rae's Speech Spot: Sequence Comprehension
Home Sweet Speech Room: Directing the Action: Social Skills/Pragmatics
Natalie Snyders: March Homework Packet and April Homework Packet
Kristin Minden: There Was an Old Lady Who Swallowed a Chick Activities and1 and 2 Step Following Directions
Major Speech Minor Girl: What Would You Do or Say Social Skills Activity
Teach Speech: Who What Where When Questions with Visuals and What Questions with Visuals Add On
Speak Listen Play: Practice on the Playground S and S Blends
Nicole Allison: No Print Expressive Pack
Speechy Musings: Phonemic Awareness Packet Powerpoint
Ms. Jocelyn Speech: Buzz Words
Live Love Speech: Live Love Speech: Who Wants to be a Social Skills Superhero?
Danielle Reed: Hedgehog Grammar Unit
Busy Bee Speech: Monster Mash Artic
Slp For Me: Spring Egg Hunt – Language Lessons Around the World
Speech Time Fun: Spring Word Fun
MrstSLP: Easter Basket Roll a Dice Game
Speech Room News: Easter Early Developing Sounds Articulation Game
If Only I Had SuperPowers: The Princess and the Dragon Speech Language Activities
Happy Spring!!!