A few months ago an idea sparked among some speechie bloggers…Thanks to much hard work by the fabulous Jessica Chase at Consonantly Speaking, it has become a reality and I AM SO EXCITED!!! Many of you have heard the buzzzzzzing on FB and have been wondering what was going on!  It's here!  We did it!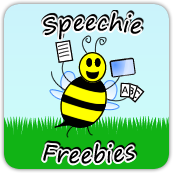 Speechie Freebies is a new endeavor by 10 of your fave speech bloggers (including yours truly!) to bring you what you love most…FREEBIES!  How awesome is it that we will have one place to go to for the good stuff?!  We are all so happy to finally be bringing this to our readers and hope you love it as much as we already do!  

My first freebie is for Valentine's Day, which is rapidly approaching!  AGH!  I'm not quite ready yet, but hopefully this will help all of us!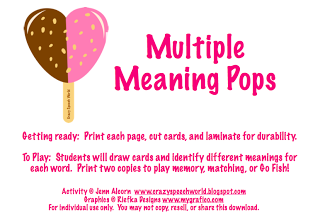 Multiple meaning heart pops!  I love these graphics, which are part of a larger set I used for Ice Cream Sentences and Language Pops.  I have been saving these hearts just for Valentine's Day since the summer, so I am incredibly happy to finally be using them!



The download includes 23 heart pops with multiple meaning words, plus a cover card.  You can use these on their own or can print two copies to make matching, memory, or Go Fish games.  

You can grab this download in my TPT store!  I hope you love it!  Don't forget to leave feedback if you grab it 🙂

And don't forget to check out Speechie Freebies!  You can follow via…

Speech Freebies Blog 
Facebook
Twitter
Pinterest