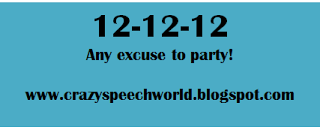 I'm sure you have heard the significance of 12-12-12 and how it's not gonna happen again for like 900 years or something!  So, I just felt the need to celebrate!
I asked my Facebook followers what they would like to see on sale in my TPT store for HALF price…and now all of the ones you asked for are!  Only for the next 12 hours!   The items on sale include:
 I also set my Trim The Speech Tree /r, s, l/ bundle to FREE!  I hope you are able to take advantage 🙂  Happy 12-12-12!
Crazy Speech World's TPT store