As a southerner raised in Tallahassee, a die hard Seminole of The Florida State University, and a FSU Alum, saying that I love football is an major understatement.  Football is a huge part of my life and always has been.  I spend a lot of time in the fall watching football…whether we are at my son's games, sitting in Doak Campbell Stadium watching the Noles, at EverBank Field watching the Jags, or even on our couch watching games on TV, I love every second!  So what's an SLP to do with this, you ask?  Make football materials!  Woo!  I was so excited about it, I decided to give you guys a freebie and sneak peek of what I am working on…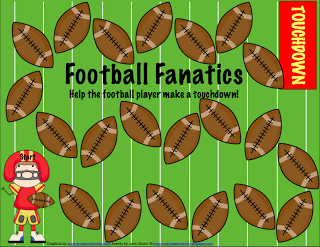 I made a football game board and 24 can question comprehension cards!  All you need to play is dice and game pieces.  You can use them together or separately! 


Just read the question, have your students answer and tell why, then move on the game board…quick and easy, just how I like it 🙂  You can use the cards for
listening comprehension
answering questions
sentence structure
making judgments
reasoning
Download this freebie HERE.  

Make sure you leave me a comment and let me know what you think!  Do you love football too?  I'd love to hear who you will be rooting for this season!