The gorgeous sunny weather, spending days at the beach…I'm definitely a Florida girl.  And right now my son is out of town with his grandma, so I have lots of time to myself.   Combine the two and SPLASH…more ocean themed materials 🙂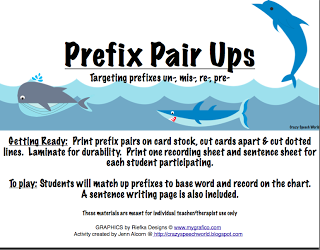 First up…prefixes!  I really like working on prefixes for building vocabulary because it really can unlock a whole world of new words for kids.  Once they understand the concept of prefixes, they can apply that knowledge to all the words in their lexicon.  This activity focuses on the prefixes un, mis, re, and pre.  


There are 6 sets of cards for each prefix.  I set it up so that the cards are cut down the middle and you match the prefix to the root word.  You can use all of the cards or just a set or two.  To play a game, just put all the cards face down and have the students take turns choosing to cards to make a match.   You could also just use the cards as practice to manipulate the words.  Either way, once they make a match you can discuss how the prefix changes the word meaning or put it in a sentence.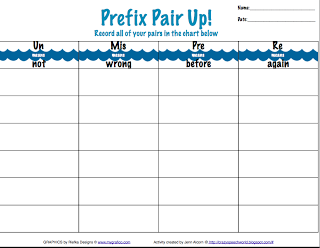 I also created this recording sheet, which can be used a couple different ways.  You can have students record the pairs OR you can have them brainstorm new words with the prefix.  This would be a good activity for wrap up or for homework.


Last, is a page to have the students write sentences for the prefixes.  I envision using this as a carryover activity or in follow up session.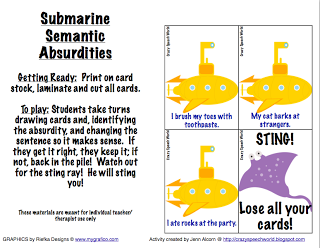 Next is a card game to work on semantic absurdities.  This is a skill that is good to work on vocabulary, inferencing, and critical thinking skills.  To play, all cards are in a pile and each student takes a turn taking one, reading the sentence and identifying the absurdity.  They then can make changes to the sentence to make it logical.  You could also have discussions about why the sentence was absurd to further problem solving skills.  There are sting ray cards in the deck that will cause you to lose all your cards!  Whoever has the most cards at the end is the winner!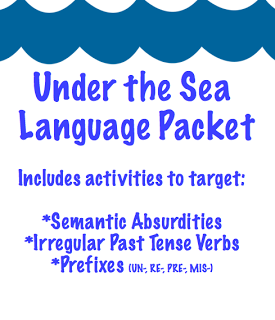 I created a packet that includes the above two activities, as well as the card game for irregular plurals I posted previously, in my TPT Store or you can purchase them separately, just click on the links below. 

And don't forget about the freebie that matches this set to target Helping Verbs!
Under the Sea Language Packet

Prefix Pair Ups

Submarine Semantic Absurdities

  As always, thanks for your support!  If you download, please leave me a comment 🙂