I must have developed a sweet tooth in the past few days…or maybe it's the heat…whatever the reason, I have some new activities for you all today!  All with popsicles!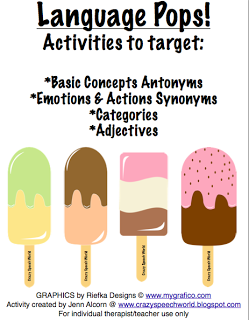 I made 4 different games to work on antonyms & basic concepts, synonyms & emotions/actions, categories, and adjectives.  First up, antonyms & basic concepts….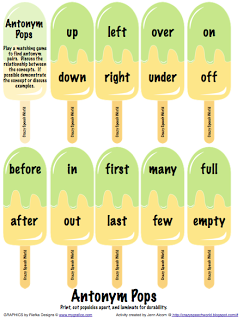 I used 38 basic concepts that are also antonym pairs.  My idea is to cut the popsicles (along the wavy line that separates the words) and put all the pieces face down.  Students can take turns picking two pieces and trying to make a match.  Once they do, you can discuss the concepts and, if possible, demonstrate it using the popsicle.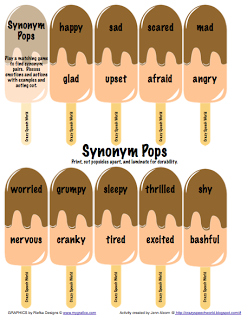 The Synonym Pops is very similar to Antonym Pops.  For synonyms, I used emotions and associated action words (laugh/giggle, cry/sob, etc).  Again, you can discuss the pairs and even act out the emotion or action.  This would be great for some of our students who have difficulty with understanding and recognizing feelings.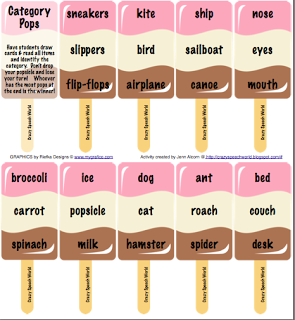 Next, Category Pops!  All you have to do for this one is cut out each popsicle and you can either put them in a container/stack and have students take turns drawing one or you can lay them all out face down.  Students read the words and if they identify the correct category label, they can keep their popsicle.  There are also penalty popsicles, if you get one, you lose your turn.  Whoever has the most popsicles at the end, wins!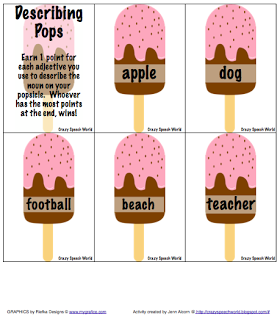 Last game is a card game designed to work on adjectives and nouns.  Each card has one noun on it.  Students take turns drawing cards from the deck, reading the noun, and naming as many adjectives they can to describe it.  They earn one point for each adjective.  Whoever has the most points at the end, wins!  You could also use these cards to work on plural nouns, sentence structure, or sorting by type of noun (person/place/thing).

All of the activities are available in my TPT Store.  Leave me a comment and let me know what you think!